May 2023
Why Fairford Community Voice supports the Fairford Neighbourhood plan
This Plan has been nearly 10 years in the making and is the product of literally thousands of hours of work. It presents a wide range of policies which, if approved (voted 'yes'), will become legally part of planning policy for the parish.
The question of how much housing is coming to Fairford is out of the hands of the Plan – this is decided at CDC and Government level. However, what the Plan can do is direct the housing to the most sustainable site and the one most strongly supported by residents at Open Days.
A brief summary of the Plan's proposals – please read the Plan itself in full for detailed explanations of and justifications for these policies
provides for a new burial ground
seeks to protect and support a range of community facilities
ensures that all sources of flood risk are taken into account at an earlier stage in the planning process
requires increase of sewage capacity and upgrade of facilities for all new housing developments
ensures that the effect of increased traffic from development will be taken into account, especially the effect on the Conservation Area
seeks to improve sustainable (cycling / pedestrian) routes to nearby villages and towns
provides the strongest level of protection to The Walnut Tree Field, Upper Green and Coln House Playing Field
identifies a local gap between Fairford and Horcott which defends against development on all the fields forming that gap (from all Mere fields, across to the playing fields and along the river as far as Cutler's Ford, the swimming hole
creates a new 'River Coln Valued Landscape' – Snake Lane across to the footpath to the west of Lake 104, down to the river and up as far as Fieldway
ensures that hedgerows are protected (or replaced) by developers and that felled trees are replaced on a 2:1 ratio
creates a list of design standards which reflect the characteristics of the town eg. using the white/cream coloured Cotswold stone of the area (not the yellow stone of the north Cotswolds)
creates an up-to-date list of buildings, parks, features etc. which, whilst not listed (designated), are significant heritage assets eg. Fairford Park, post box, Gable Cottages
ensures that any housing is sustainable, accords with 'Building with Nature' and BREAM 'Excellent' standards, and supplies a housing mix appropriate to local needs as identified in local surveys
supports the development of existing industrial sites to provide local jobs
seeks to retain/improve/sustain an attractive town centre and provide for new visitor accommodation
An approved Plan would mean that Fairford would receive a greater proportion of Community Levy Funds (paid by developers) for projects in the parish.
Full disclosure: 3 FCV Committee members have been involved in the development of this Plan.
March 2023
Why do we need a Neighbourhood Plan for Fairford?
We can't change the mistakes of the past but we can, and must, plan for the future.
The purpose of Fairford's Neighbourhood Plan is to make sure that Fairford's future development is sustainable, meets the needs and wishes of both existing and future residents and is in keeping with its character as a historic Cotswold market town.
More houses are needed because of the national housing shortage. We can't control the number of new houses to be built in Fairford; this is set by the allocations in the Cotswold District Local Plan, according to housing need in the district, but we can determine the most sustainable sites and make sure that factors such as flood risk, sewage provision, protection of green spaces and Heritage considerations including settings of listed buildings and Conservation Area, etc. are taken fully into account.
The Neighbourhood Plan is is based upon the results of wide consultation with the local community over many years, and will last until 2040. It is not just about future housing, but also considers employment and business growth, and infrastructure such as roads, drainage, and other facilities for ALL the community. It has 19 different policies, including:-
Managing Flood Risk. This requires that flood risk should be considered at the site selection stage, flood risk assessments must take groundwater levels into account, and development must be diverted away from areas with high flood risk.
Infrastructure for Sewage management. To avoid sewage overspills polluting the river, the policy requires adequate provision for sewage to be made for all future developments, or occupation delayed until such time as this has been provided. Once the Plan has been passed, CDC will be obliged to add conditions to future planning consents for these requirements to be met.
Protecting Local Green Spaces and the riverside area, and protecting hedgerows and trees
A few highlights of particular policies which should help preserve the natural environment in our area and ensure that both local residents and visitors can continue to enjoy Fairford's walks and countryside.
It might surprise you to know that there are no officially protected green spaces in Fairford so the proposal for three Local Green Spaces in the Neighbourhood Plan i.e. those with the strongest level of protection, is significant. These are the Walnut Tree Field, Lower Green and Coln House Playing Field. The latter of these also forms part of a Local Gap policy which covers the fields between Horcott and Fairford, and along the river as far as Snake Lane. As you might remember, two of these fields came under severe pressure from developers in recent years and the principle of a local gap was, in part, why the developers failed to get planning permission at appeal. To complete the run of protection along the river, the Plan also proposes a 'River Coln Valued Landscape' which covers the remaining fields to the north of the river, between Snake Lane, Lake 104 and Fieldway. In addition, it is hoped that the policy on trees and hedgerows will see an increase in tree cover, so important at this time when so many ash and other trees are under threat from disease.
We do encourage you to have a look at the full Plan, online at Cotswold District Council: there are 19 policies altogether so well worth your time. If you are particularly interested in the policies mentioned here then most are fully discussed and explained in the 'Landscape and Local Green Spaces' document in the Evidence Base. And if you have the energy after that then you can find out more about your own part of Fairford and some of the long history of the town in the 'Fairford Character and Design Assessment'.
This Neighbourhood Plan, when agreed, will have legal force, so the Planning authority (and Planning Inspectorate) will have to take notice of it. .Accepting the Plan will bring significant benefits to Fairford in terms of additional Planning protection and an increased share of Community Infrastructure Levy. This is money which has to be paid by developers and can be used by the Town Council for local projects in Fairford.
The complete Plan is available on Fairford Town Council's website, or from the Council Office, and full details of the Plan with supporting evidence, all consultation comments etc. are available on the CDC website/Neighbourhood plans. The Referendum will take place on Thursday May 4th., alongside the Council elections, when you will have the opportunity to vote whether it should be accepted.
Don't forget to use your vote on this important matter.
We hope that you will give Fairford's Neighbourhood Plan your full support.
Just a reminder:FCV's email is info@fairfordcv.org.uk
Fairford Community Voice (FCV) in FTC Newsleter Decemberr 2022
Thank you so much for those who responded to our article in the last newsletter.
I'm afraid, however, that this message is both depressing and urgent.
If you have been walking along the river or around the lakes recently, you may have noticed a few dead or dying swans and cygnets. It has been suggested that avian flu could be the culprit and one local death from avian flu has been confirmed. As yet no local bird deaths have been investigated by Defra but they have declared a nationwide Prevention Zone.
So, what to do if you see a dead or dying bird, of any species?
Firstly, do not touch or pick up any dead or visibly sick birds that you find, although the risk to human health from avian flu is very low. Our nearest wildlife rescue centre is probably Oak and Furrow (01285 862439) and they are usually very helpful if you find a wild creature which you think needs help.
Secondly, you should contact the Defra helpline if you find
one or more dead birds of prey or owls
3 or more dead gulls or wild waterfowl (swans, geese and ducks)
5 or more dead birds of any species
The number is 03459 33 55 77.
Defra will then collect some of these birds and test them to help understand how the disease is distributed geographically and in different types of bird. Calls to the Defra helpline about dead wild birds are triaged and not all birds will be collected. The criteria for which birds are collected are adjusted to increase or decrease the sensitivity of surveillance.
This information is taken directly from the Defra website
https://www.gov.uk/guidance/avian-influenza-bird-flu#wildbirds
Some residents have been reporting deaths to Defra and it would be helpful if you could do so as well as the more reports Defra receive the more likely they are to come out to us.
Please do keep an eye on our website https://www.fairfordcv.org.uk for information about our activities. Our email is info@fairfordcv.org.uk should you wish to contact us, especially if there is anything you think would interest us which we might have missed.
Fairford Community Voice (FCV) in FTC Newsleter October 2022

FCV is a residents' association, formed by bringing together Fairford Preservation Trust, Fairford Planning Watch and Fairford Environmental Society to raise/monitor local issues that concern the local community, and give them a voice. After a couple of quiet years we are becoming more active again. We are all volunteers and welcome newcomers with open arms.
FCV aims to encourage greater public interest in maintaining the unique character and history of Fairford, its surrounding environment and the River Coln, and monitoring local planning issues.
The environment and the river are closely aligned and works in the past have included hedgerow and wildflower meadow planting, stabilising the river banks and improving the Coln corridor through Fairford for wildlife. Much of this work is carried out in conjunction with and under the supervision of FWAG (Farming and Wildlife Advisory Group) and with the permission of local landowners. At the moment the focus of our environmental work is the provision of nest boxes (in conjunction with Fairford Men's Shed) for garden birds, owls and swifts and on monitoring the water quality of the River Coln, especially below the sewage treatment plant's outlet. Would you be willing to help with any of this work, training provided?
We also keep an eye on planning applications and will comment on any we think are particularly contentious, liaising closely with the Fairford Town Council planning committee where appropriate. Would you be willing to help either with the monitoring of, and/or responding to upcoming applications?
Walkers are Welcome is an organisation we support and our members have been closely involved in developing a long-distance 'River Coln Valley' trail, from Winchcombe to Lechlade. It is hoped that this route, and its accompanying booklet, will be open in the not-too-distant future. One of our number has also developed a useful 'Fairford Walks' app. Are you a walker? Would you be willing to help with this work and keep an eye on existing footpaths?
We would like to expand our reach so if you feel you would like to be involved then please contact us. You could volunteer for one of the activities (eg. river maintenance) – or join our committee, meeting once every couple of months or so – or just add your email address to our contact list so that we can let you know what we are up to. For any involvement, requests for more information or just to register an interest please contact us on info@fairfordcv.org.uk
RIVER COLN – 13 July 2019
On Saturday 13 July, Fairford Community Volunteers carried out work on the new access footpath along the River Coln. As part of the footpath works, a number of pre-planted Coir rolls have been installed along eroded sections of the river bank to help protect it and encourage it to regenerate. The task was to provide some temporary protection to the Coir rolls to allow them to get established.
The Coir rolls that have been installed are pre-planted with a mixture of native riverside plants. The natural material provides a good growing environment for the plants and these should also eventually populate the areas behind the rolls, repairing the river bank. This will create good habitat for many species, including Water Voles. However, Ducks also particularly like the plants and so it is important to protect them until the roots get firmly bedded in.
The task was undertaken by wrapping the rolls in chicken mesh and particular care had to be taken to ensure that the it was firmly secured to prevent ducks swimming under it and becoming trapped. While it might not be particular aesthetically pleasing, it is a short-term measure and the plan is to remove the mesh either this coming autumn or in spring before next year's growth.
Separately, a fallen tree that was blocking the footpath along the River Coln walk (walk 5) was cleared.
TREE PLANTING – 30 March 2019
On a warm and sunny spring morning local volunteers, with permission of the farmer, set about planting a new hedgerow along a popular footpath in Fairford. The area planted was along the footpath (Fieldway) behind the new Keble Fields development that leads to the walk around Lake 104 and the River. The day was organised and funded by Fairford Community Voice and expert support was provided by Farming & Wildlife Advisory Group South West.
The day started by preparing the area to be planted. This took longer than expected due to the discovery of wire mesh fencing that was buried underneath the vegetation. Once this had been cleared, the line of the new hedgerow was marked out.
The group was then provided with a demonstration of how to plant the bare-root plants to ensure they have the best chance of establishing, as well as how to support with canes and rabbit guards. After this, the volunteers enthusiastically set about the getting the hedge planted and this was achieved in a little over two hours.
Teas and coffee were kindly provided by a resident of Keeble Fields and attention then switched to the existing hedgerow on the opposite side of the field. The hedgerow here had become a bit thin, with several large gaps. The volunteers infilled the gaps with new plants with the aim of creating a continuous hedgerow which will provide an improved habitat.
While the group were grateful for the pleasant weather on the day, the plants themselves would have been thankful for the rain that fell in the following week, which was necessary to give them a good start.
The plants used to create the hedgerow were a mix of native plants, typically found in the English countryside, including Hawthown, Hazel and Crab Apple. The variety of plants should provide food and shelter for a wide variety of creatures, many of which are in decline across the UK, including pollinating insects, farmland birds and Hedgehogs. Once the plants have grown beyond the reach of rabbits, the guards will be removed, and in time we hope there will be an attractive hedgerow that can be enjoyed by both wildlife and people who use the footpath.
Fairford Community Voice will be undertaking further environmental work in and around Fairford in the future, so if you are interested in volunteering please contact Paul Taylor on paul.taylor43@sky.com or Malcolm Cutler on malcolmcutler214@gmail.com.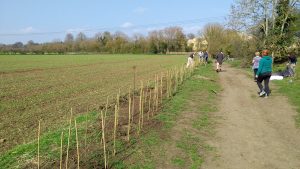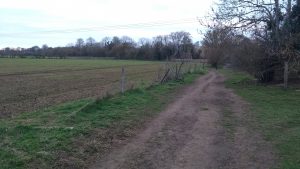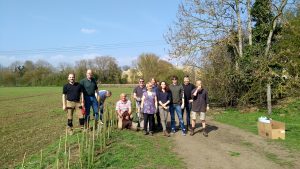 2018
Pitham Brook Path and Cricket bat willows
Message from The Ernest Cook Trust regarding footpath closures.
"The Ernest Cook Trust is pleased to have enjoyed a long standing working relationship with J S Wright (www.cricketbatwillow.com) and have been producing timber for the Cricket Bat market for decades.
We have started harvesting more Cricket Bat Willow trees in the Pitham Brook area, near the River Coln, which will cause some temporary disruption to the Permissive Footpath. Notices have been displayed since the work started alerting members of the public to a temporary closure of the footpath.
In the interests of public safety, the footpath will be closed for around 2-3 weeks (from 18 July) during the felling, and access will be restricted. This will also provide safe working conditions for the contractor.
More trees will be planted in the next 12 months as part of the re-stocking programme. If you have any questions or concerns please contact The Ernest Cook Trust on 01285 712492."
Picnic Area by Dilly's Bridge
This area was designed and managed by Coln House School pupils. It will eventually be managed by Fairford Town Council but the transfer from GCC is not yet complete. It had got into a very wild state. Malcolm Cutler, FCV chair, with some other well-equipped volunteers on a very hot day tackled the wilderness and it is now back into a usable picnic area, although a little parched. It is to be hoped that it will be made use of and appreciated. Well done to those volunteers.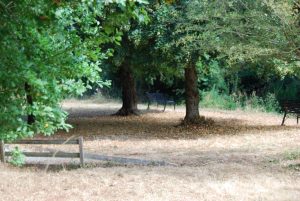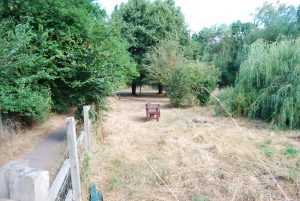 Work on the River Coln
A group of mainly Fairford volunteers led by Patrick Dreyer of the Farming and Wildlife Advisory Group SW has recently (May) carried out excellent work on the River Coln near Dilly's Bridge. The purpose was to protect and re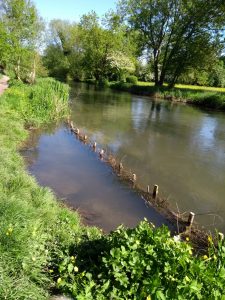 pair the river bank.
Work by FWAG SW volunteers also has carried out clearing work on the Snake Lane path.