The Fairford Award is awarded by FCV (and previously by Fairford Preservation Trust) 'for the scheme of development or improvement in Fairford which most nearly approaches or successfully achieves that standard of excellence, the criteria being a combination of aesthetic, social and environmental schemes'.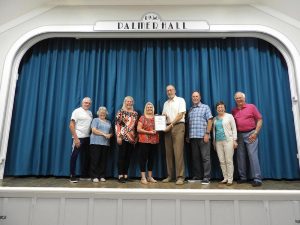 August 2019
Members of the Palmer Hall Committee were thrilled to hear that they had been chosen by Fairford Community Voice (FCV) to receive this year's Fairford Award.
Malcolm Cutler, chair of the FCV, presented the framed A4 Fairford Award certificate to Sue Crowley, chair of the Palmer Hall Committee in the Palmer Hall at the beginning of August.
Sue Crowley said: "Receiving the Fairford Award has come as a complete surprise and we are grateful to everyone – especially the Fairford community – for supporting us while the renovations were being done.
We are so lucky to have such a magnificent hall in the centre of Fairford that can now be used for many more years to come."
Malcolm said: "I attended the grand opening of the Palmer Hall in April and was amazed to see the difference that had been made to the entire hall. "There was such a transformation."
This is the second year that the FCV has presented the award to a Fairford organisation.
Last year it was presented to The Coffee Post for enhancing the corner of the Market Place that visitors and residents first see when they come into the centre of the town.
*****


In December 2017 the Fairford Award was presented to Coffee Post.





Whilst the Coffee Post in Fairford has successfully combined the existing Post Office with a Coffee shop serving delicious cakes and light meals
 Maxine, the owner, has also brightened up the entrance to Fairford's Market Place and High Street with her colourful flower tubs and recently, 
Christmas decorations.  In order to thank her for helping to provide such a welcoming entrance to the centre of Fairford
'Fairford Community 
Voice' recently presented Maxine and her daughter with 'The Fairford Award Certificate'.





Malcolm Cutler, Fairford Community Voice Chairman presenting the Certificate