Pitham Brook Path and Cricket bat willows
Message from The Ernest Cook Trust regarding footpath closures.
"The Ernest Cook Trust is pleased to have enjoyed a long standing working relationship with J S Wright (www.cricketbatwillow.com) and have been producing timber for the Cricket Bat market for decades.
We have started harvesting more Cricket Bat Willow trees in the Pitham Brook area, near the River Coln, which will cause some temporary disruption to the Permissive Footpath. Notices have been displayed since the work started alerting members of the public to a temporary closure of the footpath.
In the interests of public safety, the footpath will be closed for around 2-3 weeks (from 18 July) during the felling, and access will be restricted. This will also provide safe working conditions for the contractor.
More trees will be planted in the next 12 months as part of the re-stocking programme. If you have any questions or concerns please contact The Ernest Cook Trust on 01285 712492."
Picnic Area by Dilly's Bridge
This area was designed and managed by Coln House School pupils. It will eventually be managed by Fairford Town Council but the transfer from GCC is not yet complete. It had got into a very wild state. Malcolm Cutler, FCV chair, with some other well-equipped volunteers on a very hot day tackled the wilderness and it is now back into a usable picnic area, although a little parched. It is to be hoped that it will be made use of and appreciated. Well done to those volunteers.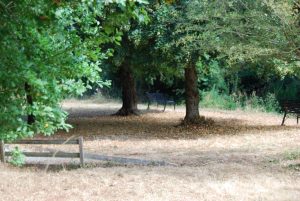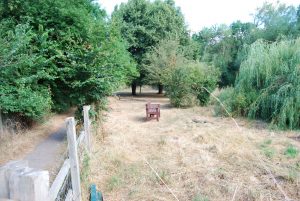 Work on the River Coln
A group of mainly Fairford volunteers led by Patrick Dreyer of the Farming and Wildlife Advisory Group SW has recently (May) carried out excellent work on the River Coln near Dilly's Bridge. The purpose was to protect and re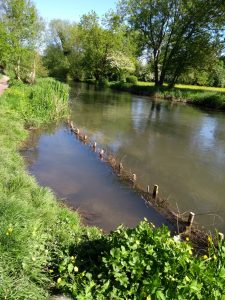 pair the river bank.
Work by FWAG SW volunteers also has carried out clearing work on the Snake Lane path.